Create a Capsule wardrobe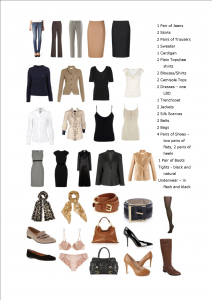 Every Wardobe needs some staple pieces that work well with everything.
15  Must-Haves:
1) Statement Necklace: can make any outfit go from drab to fab.
2) Colorful Tote: adding a splash of color mixes well against dark and light hues.
3) LBD:  always timeless and tasteful
4) Ballet Flats: cute way to dress down an outfit.
5) Leather Jacket: looks cool with faded jeans or a floral frock
6) Black Pointed Pumps: Forever Fashionable
7) Tailored Trousers: So you are forever polished and pretty.
8) Luxe Tee: Cool and Fashion forward..you can never have enough.
9) Elegant Blouse: from office to cocktail hour.. looks fab either way.
10) Chunky Knitwear: great way to smarten up  your weekend wear.
11) A Classic trench in black or beige: Stylish, and Elegant.
12) A Printed Dress: Make room for a trans-seasonal Print, easy to restyle for any time of the year.
13) A Pair of darkwash fitted jeans: Great with no fuss flats or fashionable pumps.
14) Biker Boots:  Looking cool effortlessly.
15) Tailored Black Jacket- an Ultimate staple…works well with just about any piece.