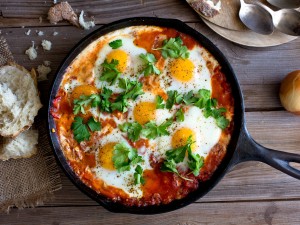 Spicy Shakshuka is an eye-opening breakfast with eggs cooked in a fiery tomato sauce.
Ingredients:
1 tablespoon olive oil
2 cloves garlic, minced
1 onion, cut into 2 inch pieces
1 red pepper, cut into 2 inch pieces
1 can whole peeled plum tomatoes with juice
1 teaspoon paprika, or to taste
4 eggs
Directions:
Heat the vegetable oil in a deep skillet over medium heat. Stir in the garlic, onion, and bell pepper; cook and stir until the onion has softened and turned translucent, about 5 minutes. Add the canned tomatoes, paprika stir, using the back of a spoon to break up the tomatoes. Simmer for about 15 minutes.
Crack an egg into a small bowl, then gently slip the egg into the tomato sauce. Repeat with the remaining eggs. Cook the eggs until the whites are firm and the yolks have thickened but are not hard, 2 1/2 to 3 minutes.
The tomato base can be made ahead of time and the next morning you can reheat the mixture and add the eggs.