Though the summer has barely started, the temperatures here in New York City have been sweltering the past few days. It's been great to final feel some warm weather, but the heat had the side effect of leaving my body feeling dehydrated and exhausted.
Regardless of where you live, you're likely experiencing a similar shift to higher temperatures. For many, the change between spring and summer is a shock for the body, which suddenly needs more hydration and electrolytes than it does in any other season. It's all because of sweat. Heat and humidity cause bodies to cool themselves through perspiration, leading to the loss of water, salt, and other minerals key to bodily processes.
While the easiest way to avoid dehydration in the summer is to stay inside a climate-controlled room, that's no way to enjoy this beautiful season. With so many outdoor activities to enjoy in the warmer months, who doesn't want to be out enjoying the weather? Luckily, it's easy (and tasty) to stay hydrated all summer long, whether you're at the beach, on a hike, or picnicking in the park. The next time you find yourself outside in the hot and humid weather, try some of these tips to keep yourself healthy and hydrated:
Drink enough water, and don't forget your electrolytes! Replacing the water lost through sweat is key to keeping yourself feeling your best, but be sure to also include electrolytes into the mix. This combination of sodium, potassium, calcium, and magnesium is also lost in sweat, and if not replaced, can cause serious health problems. One solution is to mix sports drinks or electrolyte powders with water, which replaces both liquids and electrolytes in one fell swoop. Coconut water is another great way to replenish your electrolytes, as the drink naturally contains potassium and magnesium.
Eat foods with high water and vitamin content. This is one of the most effective ways to feel hydrated. Foods such as watermelon, cucumbers, bell peppers, strawberries, and grapefruit are all fantastic sources of water, vitamins, and minerals that can help you stay hydrated.
Add chia seeds to your diet. Chia seeds are also a great addition to your diet, as they can absorb up to 30 times their weight in water, creating a gel-like substance. Because it is difficult for the digestive system to break this substance down, it allows the body to absorb the fluid slowly throughout the process, keeping the body at an even level of hydration for a longer period of time. This also helps regulate the level of fluid in the body, only absorbing fluids as the body needs.
Don't Wait Until You're Thirsty. Often, you're already dehydrated by the time you begin to feel thirsty. It's better to continually sip on water throughout the day instead of drinking a giant glass when you begin to feel thirsty.
What's your trick to staying hydrated in the summer? Leave your favorite tips in the comments below.
About the author
Ashley Warwa received her training as a Health Coach from the Institute for Integrative Nutrition's cutting-edge Health Coach Training Program. Her education was equipped with extensive knowledge in holistic nutrition, health coaching, and preventive health. Drawing on these skills and her knowledge on different dietary theories, she is working with clients to help them make lifestyle changes that produce real and lasting results.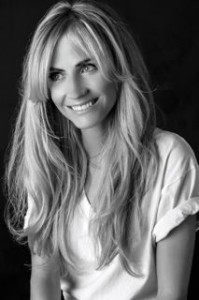 Asholutely Fabulous is an online destination for natural health information, healthy recipes, health products, healthy lifestyle tips, interviews, videos and articles. AshFab will show people that being healthy is ALL about having fun, adding new healthy habits and positive, uplifting energy to your life, NOT about deprivation, rigid structure, or boring meal.. and the results- feeling fab & looking fab.
Ashley Warwa is the soon to be author of Feed Your Self Fabulous and is the founder of Six Months to Sexy which is a one to one health coaching program designed for women, to help them achieve the ultimate health, wellness & beauty. Clients receive a personally tailored diet & manageable steps to help them lose weight, look great and get to optimum health.